Fishing tourism is an important source of income for many small communities along the coast. But both the fishing industry and people in small fishing communities who have witnessed how easily foreign tourists fill their vans with illegal fish have demanded a regulatory framework for fishing tourism.
"Fishing tourism is a positive industry for many coastal communities, but we know too little about the extent of fishing tourism in Norway," says Olav Lekve, Communications Advisor in the Directorate of Fisheries. He believes that it is therefore time for Norway to set up a regulatory framework for fishing tourism starting next year.
Everyone must register
Today, foreigners can bring 15 kg of fish out of the country. With the new regulations, this is changed to 20 kg for guests at registered fishing tourism companies and to 10 kg for all others. A registration system will be introduced for those who work in fishing tourism and earn more than NOK 50,000 a year.
Those engaged in fishing tourism must also report catches once a month to the Directorate of Fisheries.
"Are there many conflicts between professional fishermen and fishing tourism?"
"Yes, there are examples of conflicts between the two industries, our hope is that the regulations may reduce conflict," says Lekve. He outlines an example of a situation where conflict may occur:
"Let's say the cod stock goes down, there are fewer quotas, and a professional fisherman has to stop fishing. But at the same time, the tourists in the boat next to his can fish as much cod as they want. This feels unfair to the fisherman.
Know little about fishing tourism
The Institute of Marine Research conducted a survey of the fishing tourism in 2009 with the support of the Norwegian Research Council. Research Director and head of Research Group Fisheries Dynamics at the Institute of Marine Research, Jon Helge Vølstad, says that they documented 435 companies that rented out houses and boats to fishing tourists and that the fishing tourists visiting these companies landed around 3500 tonnes of fish in 2009.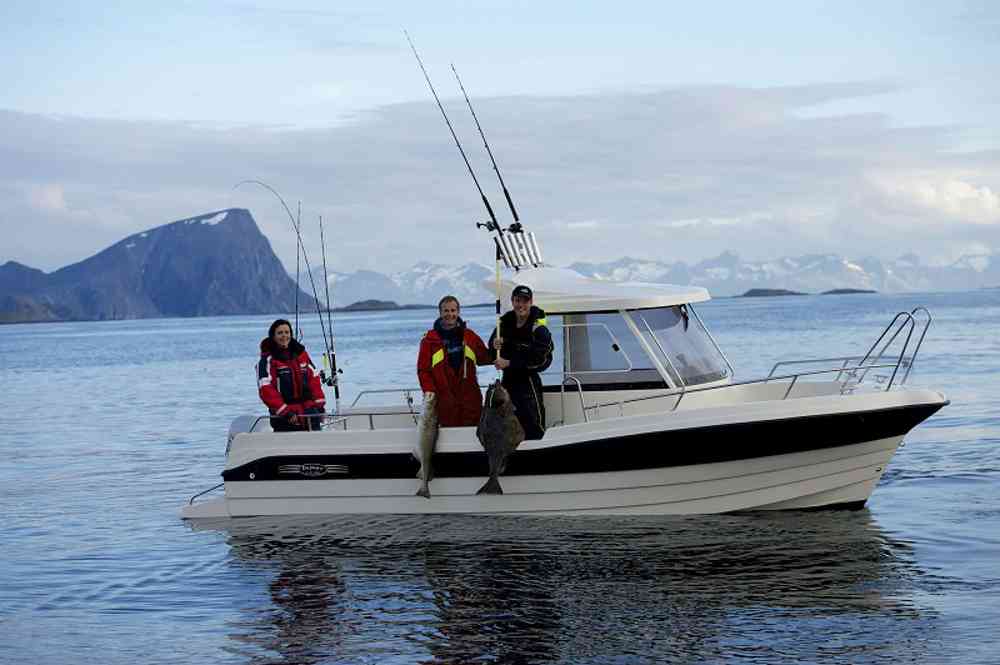 This year, the Institute of Marine Research has launched an extensive three-year project, supported by the Norwegian Research Council, in order to increase knowledge about marine recreational fishing and fishing tourism in Norway, and to develop methods that can be used for a national survey. A pilot project was conducted to study fishing tourism and recreational fishing in Troms, Hordaland, and the Oslo fjord in 2016-2017. The main survey starts in 2018.
"When we complete the data collection in 2019, we will be able to get an overview of marine recreational fishing in Norway for the first time. We will also look at the economical and societal impact of recreational fishing and fishing tourism, says Vølstad. The project is carried out in collaboration with the Norwegian Institute for Nature Management (NINA), Akvaplan-Niva, Norway's Environmental and Biological Sciences University (NMBU), and several international partners.
Wish to keep an eye on future developments
In the research project, methods will be established that will make it possible to follow future developments within recreational fishing and fishing tourism. It is particularly challenging to obtain information about tourist fishermen who do not reside with registered companies.
"You are not required to have a fishing license for deep sea fishing in Norway, so those who do not stay with the registered businesses but instead rent fishing and accommodation from private service providers or go camping along the coast can only be covered by field studies," says Vølstad.
Vølstad looks forward to gaining greater insight into the extent of recreational fishing nationally and tourism fishing in selected regions. One of the goals is also to obtain information about the number of fish caught by species, and the size distribution of cod and other selected species. This can be used to advise on sustainable management.
Four tonnes of illegal fish fillet
2017 is about to approximate 2013, which was the record year for the seizure of illegally fished fish at 4300 kg. From January to the end of August this year, 3939 kg of fish fillet was confiscated along with 159 kg of king crab. During the same period, Customs Region Northern Norway fined 45 people in 42 vehicles for illegal fishing. Among those fined are Baltic states citizens, Czechs, Belgians, Poles, Germans and Russians.
"Is illegal fishing an increasing problem?"
"You are asking a very good question since we cannot know what the extent is. However, it may indicate some increased activity. I believe I am correct when I say that what we are confiscating is a fraction of the illegal fishing that is going on," says Atle Joakimsen, regional director in Northern Norway.
For each kilogram of illegal fish moved across the border, the smugglers must pay 100 kroner.
"Are the fines high enough?"
"That rate has not been increased for a few years. It is possible that a higher rate may seem preventive so that the threshold for doing this will be higher", says Joakimsen.
The Norwegian Customs depend on the public for tip-offs
Joakimsen says that nearly 50 percent of the confiscations take place in the late evening or at night. The largest so far this year was done at Kivolompolo Customs Station 4.5 miles outside Kautokeino, and this is also where most of the confiscations is done. Customs Region Northern Norway is dependent on tip-offs to get hold of the illegal fishermen.
In Finnmark there are four border crossings to Finland, but only Kivolompolo is manned 24 hours a day. Several of the confiscations have been made in the attempt to illegally cross the border when the customs station is closed at night. The fish is taken out of the country in large vans, or cars with trailers equipped with some kind of freezing device.
"Do you think the new regulations can have an impact on illegal fishing?"
"We assume that many of the people we catch do not stay at registered tourist fishing sites. Many go camping on their own. Therefore, the question is whether the new regulations will play a role in reducing illegal fishing or not. Regardless, the regulations are good for a better overview of the situation," says Joakimsen.
Two high-speed vessels will oversee the tourist fisheries
In order to prevent people from traveling back and forth across the border with fish cargo, the allowed export quota now cannot be exceeded for a period of seven days, instead of 24 hours as it is today.
"We know it has been a problem that those who have been illegally exporting fish have driven in and out across the Norwegian border with fish cargo within a day, so the regulations have been sharpened on this point," says Lekve.
From 2018, the Directorate of Fisheries will have two high-speed vessels along the coast to oversee the tourist fisheries. The boats will be able to visit the tourist fishing companies for supervision, advice and guidance.
"We get some reports on illegal fishing, both in terms of the use of illegal fishing gear, the catch of protected species, as well as where people are fishing. We hope the regulations can lead to better overview and control of the tourist fisheries, "says Lekve.
Facts:
The most important points in the new regulations
• A registration system for tourist fishing companies will be introduced.
• A catch reporting scheme will be introduced for tourist fishing companies. The catch must be reported once a month.
• The export quota will be changed from 15 kilos of fish and fish products to 20 kilos for guests at registered tourist fishing companies, and 10 kilos for all others.
• The arrangement wherein a trophy fish may be exported in addition to the normal export quota will be discontinued.
• The export quota is changed to be valid for 7 days instead of 24 hours.